1) Robin Sharma live in SA, 25th July, Sandton.
WIN TICKETS !!!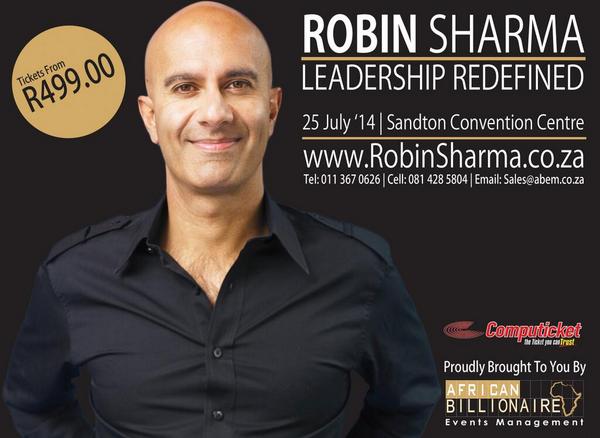 We have 10x double tickets up for grabs for our subscribers worth R499 each.
All you have to do to enter is subscribe to our newsletter ( if you have not already – link is below) and pop a email to zaheer@traveloyalty.co.za with your name and surname with the subject: Robin Sharma Comp.
Entries close 6pm on Wednesday the 23rd July 2014. Winners will be notified by email. Each winner will receive 2x tickets to the event.
Access the website with event details here
Access the Youtube ad here
Who is Robin Sharma?
Robin Sharma is the globally celebrated author of 15 international bestselling books on leadership including The Leader Who Had No Title, the phenomenal #1 blockbuster that is inspiring a movement around the idea that "Now, anyone – in any organization – can show Leadership". His work has been published in over 62 countries and in nearly 75 languages, making him one of the most widely read authors in the world. He shot to fame with The Monk Who Sold His Ferrari, which has topped international bestseller lists and sold over 4,000,000 copies. Robin is the founder of Sharma Leadership International Inc., a training firm with only one focus: helping people in organizations Lead Without a Title. Clients comprise of many of the FORTUNE 500 including Microsoft, GE, NIKE, FedEx and IBM. Organizations such as NASA, IMD Business School, Yale University and The Young President's Organization are also SLI clients. Robin is a former litigation lawyer who holds two law degrees including a Masters of Law (Dalhousie Law School).
2) Hilton Hhonors earn 2500 bonus points.
Access the offer here
Please copy and paste the link below for direct newsletter subscription with anyone and everyone you may know who loves to travel.
Free Newsletter: http://feedburner.google.com/fb/a/mailverify?uri=co/WGxz&loc=en_US
Sign up everyone you know to our free newsletter, tell them about our world exclusive offer, like us on Facebook and follow us on Twitter  and NEVER miss a great deal.
more free stays, more often.