1) Hilton has some changes:
As mentioned in our November 2016 newsletter below Hilton has been working on some changes:
http://traveloyalty.co.za/…/emirates-platinum-update-hilto…/
…
Hilton will implement the following changes and more to come:
– New name with only have 'Honors' in it
– points+money slider ( similar to Etihad award bookings)
Award categories will be dissolved. This is a hotel industry first. I'm loving it already. Apparently no Blackout dates. If you've seen how low Mauritius, Seychelles and Waldorf Astoria's and others go on points+money rate you'd be smiling by right about now. This feature should be available late February.

– pool points from a few accounts ( similar to SPG), this will be for 10 or 11 accounts. Finally!
– Shop on Amazon with Honors points. With the recent make hay while sun shines stackable promos Hilton has just had, Amazon is about to get hit with orders like never before, as most orders will be highly discounted compared to cash. This is a industry first with Amazon Partnership.
– Extend your Diamond status ( perfect if you run short). A free year of Diamond after year 2 or 3. Perfect for people who are unable to make qualification, I voiced my opinion on this in a Hilton Conference last year as many airlines have started this for pregnant mothers or mothers to be who cannot travel and re-qualify.
"Sometimes life sends you a curveball, and the last thing you should be worrying about is re-qualifying,"  – VP of Hilton Honors.
I wish they added confirmed suite certificates as Hyatt uniquely has.
Look out for the email with all the confirmations.
2) Hilton Honor 2k Points Every Day.
Earn 2,000 Points every day at over 4,800 hotels when you sign up and complete a stay from February 1 through April 30, 2017. 
I'd say this is not as lucrative as their previous 3x points promo for most. However, The lower priced properties should add bigger numbers on checkout to your Honors account  as you earning the set 2000 Honors points per day + with the lucrative quadruple points offering ( not miles)  its still high tide on the points earn investment until end of March.
Access our Hilton promo page HERE.
3) Etihad – win 1.2million miles with Hertz.
Win 1.2 million Etihad Guest Miles, enough miles to buy Business Class tickets for two persons Around the World.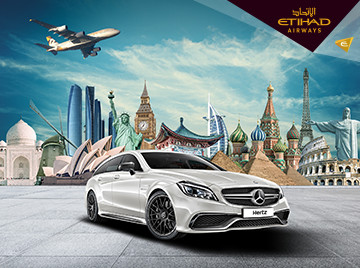 Access the offer HERE.
The most wise way to go on holiday is to have your spend as an investment with plenty to show and use for after check-out. All other travellers get nothing on check-out. Travel wisely. Travel the TraveLoyalty way.
Please copy and paste the link below for direct newsletter subscription with anyone and everyone you may know who lives, loves & breathes travel.
Free Newsletter Link:  http://feedburner.google.com/fb/a/mailverify?uri=co/WGxz&loc=en_US
Sign up everyone you know to our free newsletter, tell them about our world exclusive offer, like us on Facebook, follow us on Twitter + Instagram and NEVER miss a great deal.
more free stays, more often.