Latest Offerings 2022:
Emirates get 2 FREE business class tickets when you pay for 6
(&earn up to a whopping 108,000 Skywards miles !)
Check the Business class saver rates on Emirates.com for 6pax, screenshot the amount and email it to us to book 8x seats for you or your family.
Routes available: Johannesburg to Dubai and Johannesburg to Istanbul
What can be done with 108,000 FREE Skywards miles?
Whats the cash price of the above ticket?
What would the miles cost to buy? (some people do buy miles..)
Check in here for way, way less:
Send your Emirates screenshots of total price of 6 pax to: info@traveloyalty.co.za
Access EMIRATES booking rates HERE
Please include the pax passports.
Terms and conditions:
offer available ex Jnb – Dxb return or Jnb – IST return
offer subject to Business Saver (o class) seat availability only.
limited offer, first come first served.
offer based on 6x adults rate found on Emirates.
all 8x tickets does not have to be used at once, you may separate some or all of the dates providing Business Saver is available for those dates
108,000 miles earn subject to IST route, DXB route earns 70,000 miles
limited to 20x packages booked on or up to Wednesday 9/03/22
offer can be halfed to book 3 earn 1 Free ( with 54,000 miles earned on IST route)
please email for kids rates
first booking preference given to Traveloyalty concierge members.
Expired offers:
3x and 2x Guest + Tier miles promo.
Book by 20 February 2016. Travel valid from 10 February until 30 June 2016.
Etihad double miles in economy.
Registration is mandatory to receive bonus miles and is valid from 16 September until 28 September 2015. This offer is valid for travel between 25 Sep until 15 December 2015 only.
Access the offer HERE.
Etihad Triple miles in business class – partners included.
Open to all new bookings made between 16 September and 28 September 2015. This offer is valid for travel between 25 September and 15 December 2015.
Register for the offer HERE.
Qantas companion fare special to Australia and New Zealand.
Economy, Premium Economy and Business. Sale ends Sunday, 13 September 2015. Travel between 7 September and 30 November 2015 or between 1 February and 31 July 2016.
Access the offer HERE.
Etihad triple and quadruple miles. Register by 20 July 2015.
Access the offer HERE.
Etihad Double miles to Mumbai, India  ( via Seychelles).
Book before 31 July 2015.
Access and register for the offer HERE.
Qatar 30% off sale.
Book by 19 April, fly by 10 December 2015.
Access the offer HERE.
Etihad Sale.
Book before March 3, fly by December 12, 2015. Register for double miles.
Access the offer HERE.
Register for double miles HERE.
Qatar Sale.
Book by 4th January, 2015 – travel up to 15th June, 2015.
Enrol as a Privilege Club member today at qmiles.com and enter promo code "AFRICA2014" to earn double Qmiles on your first flight.
Access the offer HERE.
BEST OF 2014.
Mango Voyager miles offer.
Access Mango's page with T & C HERE.
Qatar Global Sale.
Book by 10th November 2014 fly from 6th November 2014 to 15th June 2015.
Access the offer HERE.
Emirates.
Access the offer HERE.
Emirates
Access the offer HERE
Air Asia Big Sale
Access the offer HERE
Qatar Special Offer. Book by 29th August for travel until the end of March 2015.
Access the offer HERE
Emirates Europe Sale
Access the sale on website here
Below: Availability for upcoming school holidays are plenty.

Air Asia BIG SALE
5x Skytrax world champ in Lowest Airfare has their second Big Sale of the year.
Fares  are actualy from $9 and include all taxes but does not include checked luggage or credit card payment fees.
Bookings:  2 June 2014 – 8 June 2014
Travel from:  5 January 2015 – 31 July 2015
Access it here
MANGO'S R1.00 AIRFARE SALE
Conditions of sale:
Download Mango's new mobi-app and book fares for just R1!Exclusive to Mango mobi-app users (Apple, Blackberry 10 and Android).With selected 1 WAY flights selling for R1 ONLY, don't delay, download the FREE app and start booking your Mango flights! Click here to download: http://mango-mobiapp.pgtb.me/4kp02l…Airport taxes are excluded and the offer is subject to the purchase of a return flight sold at non-promotional fares.Now that's smart travel.BOOK: 2-6 June '14. FLY: 2-30 June '14(NOTE: SALE HAS JULY INCLUDED NOW) use the 1month low rate tab to see.T's & C's apply. See More
Etihad business connect.
Free 20,000 miles
Access the offer here
Conclusion: Do it, its free and it works.
Etihad Airways, is pleased to announce 'Any City, Same Fare' offers!
Enjoy an extensive selection of destinations when you fly from Johannesburg, or from Cape Town, Durban, East London or Port Elizabeth via Johannesburg to Europe, the UK and the US and take advantage of a common fare – any city, same fare. This is a fantastic opportunity for you to experience the best of our network, for less. But hurry, sale ends 25 April for travel until 15 June 2014.
| | |
| --- | --- |
| Destinations | Coral Economy Class fares (in ZAR) from |
| GERMANY & NETHERLANDS Dusseldorf, Frankfurt, Munich, Amsterdam | 7,314 |
| UNITED KINDGDOM London, Manchester | 8,614 |
| UNITED STATES New York, Chicago, Washington | 10,014 |
To book these fares, visit

www.etihad.com

, call 0860 123 150, or visit your nearest travel agent.
Terms and conditions apply. The fares mentioned above are 'starting from' fares and include taxes, surcharge and exclude service fees. Some additional surcharges may apply on certain destinations. Changes are permitted at a charge. Cancellation is not permitted on these fares.
TOP 10 Best Airlines for Business Class
Interesting to see non of the USA airlines have made the list as the write up is compiled via CNN.
Four Gulf airlines have made the list, Oman, Qatar, Etihad and Emirates. (Saudi Arabian Airlines has a long way to go to match their Gulf counterparts, although i've had pretty good friendly service on board, most of their business class seating is as good as economy on the other airlines and many of their aircraft are in need of a upgrade to maintain the Gulf consistency amongst all its carriers).
Oman Air comes in second after winning many awards in the last 2 years via Skytrax Awards. They certainly pride themselves with these awards as their airports are decorated with posters inside and outside with this achievement.
Read more on it here: http://www.worldairlineawards.com/Awards_2013/jseats.htm
Oman Air is the only airline I know of that asks its passengers to check in early as possible so " they may experience their service"
With business class seating, each airline has it different for short, medium and long haul flights. Most times its standard on short and medium haul flights.( Eg. South Africa to Mauritius on SAA  and many local flights within each respective countries).
Check my write up on Oman here: http://traveloyalty.co.za/wp/oman-salalah/
The top 10 airlines list via CNN here:
http://edition.cnn.com/2014/02/24/travel/airlines-business-class/index.html?hpt=hp_c3
Best airlines for business class
By Emma Sloley, Executive Travel
February 24, 2014 — Updated 1501 GMT (2301 HKT)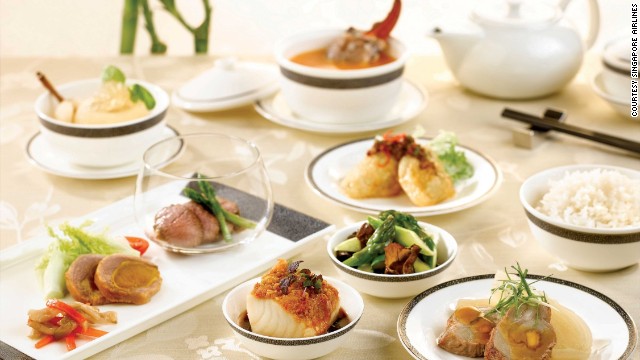 1. Singapore Airlines
. Among its many best-in-class offerings, Singapore Airlines has a stellar culinary program: There's Givenchy tableware and a special "Book the Cook" option that enables passengers to preorder their main course from a lengthy online menu.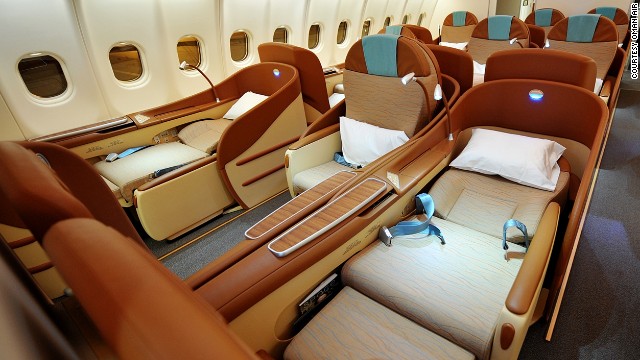 2. Oman Air.
This airline offers door-to-door service with complimentary chauffeur-driven airport transfers in select destinations such as Paris, London, Muscat, Oman and Mumbai, India.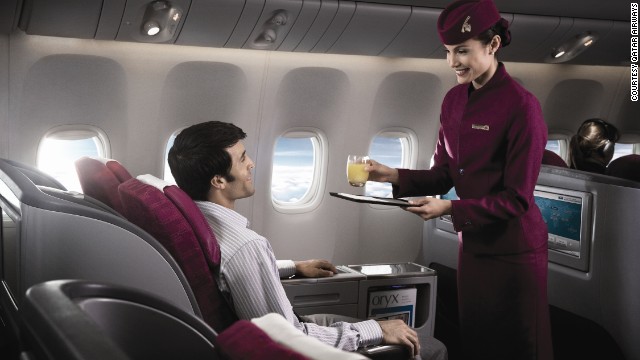 3. Qatar Airways.
The airline was the first to offer different wine selections going East and West out of Doha, Qatar, so that frequent fliers enjoy different selections on each leg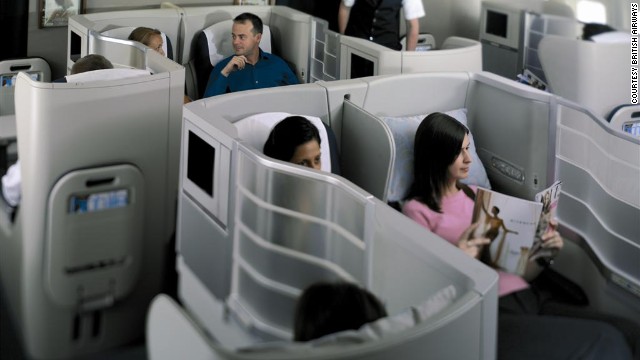 4. British Airways
. The airline's lie-flat seats have a distinctive "Z" position that extends to 6 feet, 6 inches and is ideal for watching movies, and the carrier's lounges also garner top marks.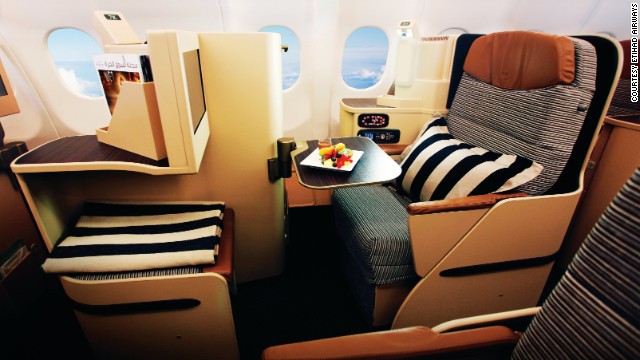 5. Etihad Airways.
Etihad's Pearl business-class cabin features 6-foot-1-inch flat beds with privacy shells and direct aisle access from every seat; food and beverage managers for each passenger; and thoughtful touches like mood lighting to help ease jet lag.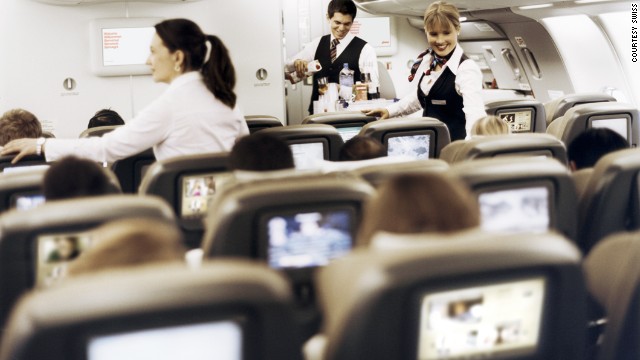 6. SWISS.
Attention to detail is what sets this airline's business cabin apart: Expect out-of-the-box touches like all-veggie menus from Zurich's Haus Hiltl, the world's oldest vegetarian restaurant.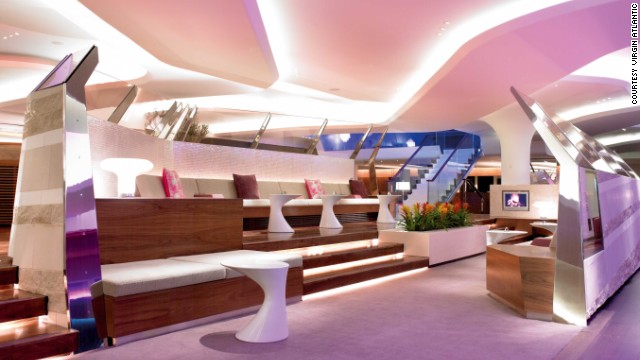 7. Virgin Atlantic.
Business travelers love this perennially popular carrier for all the reasons you'd imagine — modern planes, an upbeat staff and loads of perks in the cheekily named "Upper Class" like 22-inch-wide beds that convert to 33 inches when it's time to sleep.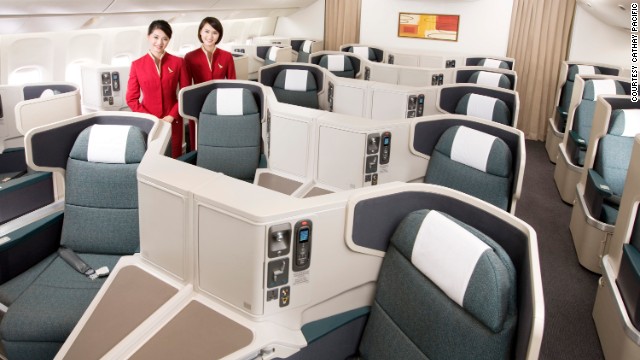 8. Cathay Pacific.
This Hong Kong carrier still stands tall when it comes to providing passenger comfort, with one of the world's widest business-class seats at 32 inches and a side storage compartment that doubles as extra knee space for those who prefer sleeping on their side.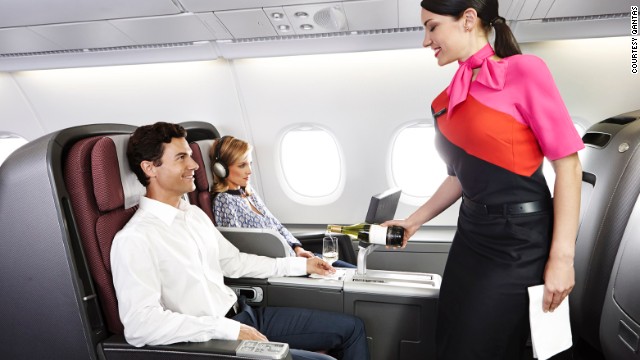 9. Qantas.
Passengers on this Australian carrier recline in award-winning Mark Newson-designed Sky Beds with massage options, and airline staff members do a turndown service with a mattress and duvet on request.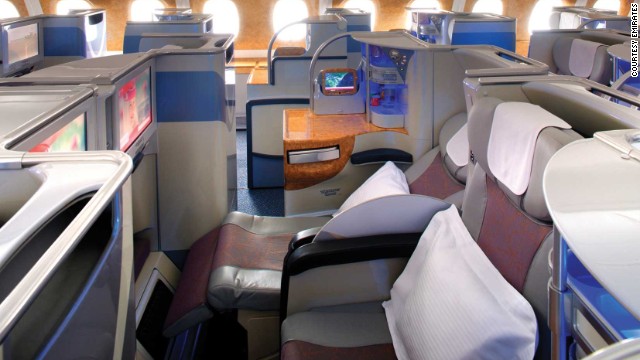 10. Emirates.
The fact that Emirates has one of the youngest fleets in the sky doesn't hurt its reputation as one of the luxury airlines to beat.
Free Etihad Guest Gold card for frequent flyers

Etihad Guest, our loyalty programme has everything you'd expect from Etihad Airways: personalized, luxurious and always rewarding. And to fast-track your journey to fantastic benefits, we'd like to make you an offer that's hard to resist.
If you've got a gold or a higher-tiered card with any other airline loyalty programme, we'll match it with a complimentary Etihad Guest Gold card*!
That means exclusive benefits like luxurious lounge access for you and a friend, 50% extra Etihad Guest Miles on flights and a host of other great rewards. With PointsPay, you can convert your miles to cash to spend at over 30 million in-store and online outlets worldwide.
To participate in this promotion,     • Enroll into Etihad Guest if you are not yet a member     • Send us a scanned copy of your existing gold card from another loyalty programme with your latest statement alongside your Etihad Guest number to guesttiermatch@etihad.ae
Why this sudden generosity? Because we are confident that once you are upgraded to Etihad Guest Gold, no other loyalty programme would do.
_________________________________________________________________________________________
Terms and Conditions apply:
Offer is valid for applications received until 22 February 2014. Only applications received will all the required documents will be considered. Applications received with illegible scans of documents will not be considered. You will receive a confirmation mail informing the status of your application within one month of your application. This offer is also open to existing members of Etihad Guest. For existing Etihad Guest members, your current Etihad Guest Miles will be carried forward at the time of upgrade. Selection of members for tier upgrade is completely the discretion of Etihad Guest.
Access offer here:
http://www.etihadairways.com/sites/Etihad/global/en/guestrecognition/visitor/Pages/complimentary-etihad-guest-gold-card.aspx
Conclusion:
Etihad had this promotion twice during 2013. The first time was limited to the first 500 applications and the second time limited to the first 1000 applications. There does not seem to be a limited to this offer (yet). As we all know Etihad changes their minds with regards to terms and conditions over-night so best apply NOW, don't delay.
Etihad has been building alliances with many other airlines ifnot buying stake into the airlines as well and the benefits of a Gold status will definitely come in handy.
Find benefits of Etihad Gold here:
http://www.etihadairways.com/sites/Etihad/global/en/guestrecognition/visitor/etihadguest/guestbenefits/Pages/
Find the benefits of partner privileges here:
http://www.etihadairways.com/sites/etihad/global/en/guestrecognition/visitor/etihadguest/pages/ourpartners.aspx
Save up to 15% with Visa & Qatar Airways
http://www.qatarairways.com/global/en/cugs/visa-africa.page
Qatar Airways special. up to 15% off to ALL destinations worldwide until Feb'15 originating from South Africa.
booking code: "VISAPROMO"
Travel until 31st March 2014
Conclusion:
Kind of like a 1st princess runner up prize if you missed the 30% off sale 2weeks back.
Etihad Book online and earn 25,000 bonus miles !
The T & C
This offer is only valid for bookings made on etihad.com between 4 February and 15 February. Bonus miles will only be credited if the Etihad Guest membership number is included during the time of booking. The miles will be deducted from the account if the booking is cancelled. The bonus miles earned will be Etihad Guest Miles and not Tier Miles. The bonus miles will be credited within two weeks after the promotion ends. This promotion is not valid for SuperSeller members. Etihad Guest members can also earn triple miles for travel in Diamond First or Pearl Business Class till 31 March 2014.
Find it here:
http://www.etihad.com/en-ae/promotions/earn-25000-miles/
Bonus:
Blend the special with selected bonus double mile destinations (check the website for more current offerings from your local hub)
Conclusion
25000 bonus miles is a huge promotion  (considering Johannesburg to Jeddah requires 35024 miles return in coral economy) now blend that with the double or triple miles bonus offerings to selected destinations and fare classes and you basically have your next airline ticket free.
I cant imagine the amount of x 25000 bonus miles people will rack up for Abu Dhabi – Doha (1 hour flying time) per return. (cost AED 765). I wonder if paying and just flying aimlessly here to rack up miles will be in our mathematical economical favour..
Emirates has a 1day sale to Hong Kong @ R7600. Qatar has it on this special @ R5600. This sales good. Pity its not blending in with IHG specials due in 8 days time.
BEST OF 2013
The 1st question I asked: what if I have 10 kids, the answer: well your 10 kids will fry free, only infants will pay their specific full portion fare.
Saudia Killer standard online rates
Online November /December for travel through to February 2014
$391 usd. return in economy JNB-JED. with the breakdown of fare routing.
$848 for Business Class.. (nice mileage earn)
BEST OF 2011/ 2012
Back to Back offerings from emirates